History of Trenkhar Nunnery
History of Trenkhar Nunnery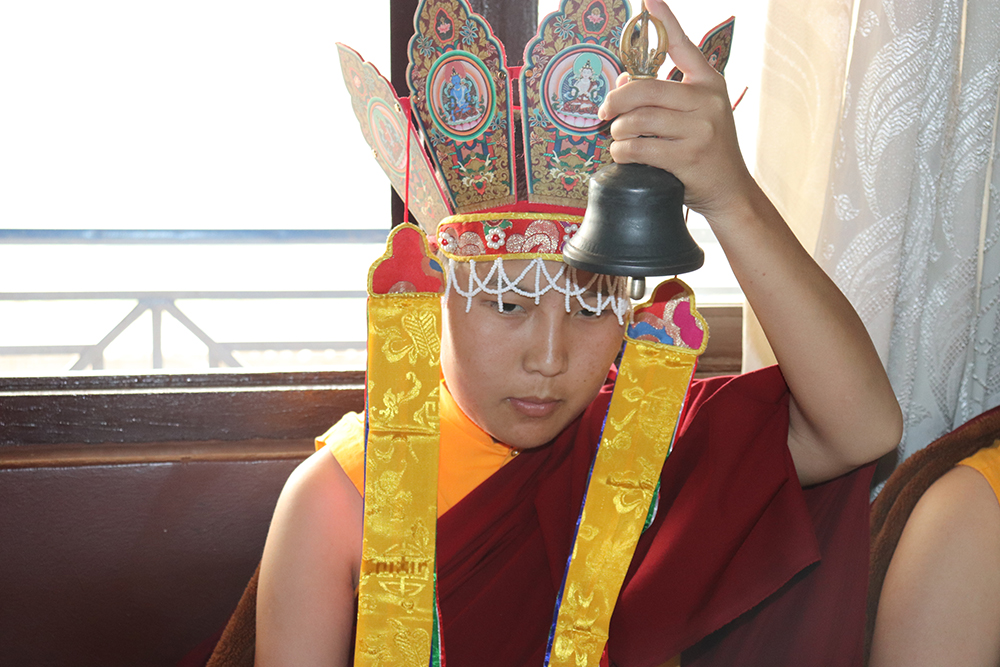 Trinkhar Nunnery was a Labrang (A resident of Lama) during Jetsun kanga Drolchok (1507–1566) in the 16th Century. It was a retreat residence of Jetsun kanga Drolchok. Till earlier 17th Century, it was a residence of Lamas, generally worshipped as a temple or a shrine by local people. After combining Phuphak Samten Ling, Rishing Domsum Ling, and Jampa Shedupling to Namgyal Choedhe Thupten Dhargyeling Monastery, it came to have two Khenpos (Abbots). New Khenpo or younger Khenpo use to stay at Namgyal Choedhe Thupten Dhargyeling Monastery, Namgyal and Elder Khenpo or retired Khenpo use to stay at Trenkhar Labrang where he does his all ritual practices for the rest of his life. 
Gradually later, a nunnery tradition came to existence all-around Mustang. The exact dates are not sure when the Nunneries started at Mustang. Our monastery also started Nunnery at Trenkhar's Labrang, where nuns were taught and given traditional Buddhism ritual practices. Teachers for the nuns were arranged or sent from the monastery of Namgyal. 
Every Monastery or Nunnery use to have their territory from where every second child must enter as a monk or a nun. Such a system was started to maintain the number of monks or nuns in the Monasteries or Nunneries. Nunnery uses to organize fifteen to twenty days long Monlam (prayer festivals) during Losar every year. The summer retreat was also practised at Nunnery every year. Generally, all the traditional ritual practices were performed at the Nunnery. After the 17th Century, Nunnery began to vanish with the demise of Mustang's royal power and Namgyal Choedhe Monastery itself. 
In around 1960, nuns from Trenkhar Nunnery visited His Eminence 6th Tharig Rinpoche to receive initiation, scriptural transmission and explanation on various ritual pujas. After that, the ritual traditions of Nunnery did rise again. Time passed by, elder nuns began to settle their life as a laywoman whereas younger nuns started to stay with their parents. Such things started to happen after the "Tharchang" (ཐར་ཆང་།) of Two nuns both called Tsechik from Kimling village. "Tharchang" (ཐར་ཆང་།) was celebrated by the nuns at the age of 45. After this celebration nuns are free from the rules and duties of the Nunnery. They can stay at their home for the rest of their life. Tsechiks were two elder nuns who took care of the Nunnery responsibly but everything went out of control after they left the Nunnery. 
Former nuns or Ex-Nuns were left in the village when Khenpo Tsewang's grandfather Meme Yonten Sangpo was the representative head of Namgyal Monastery. Most of them had got married and the rest of them were spending laywoman's life. Meme Yonten Sangpo advised them to continue practising dharma that was possible for them. 
So, Meme Yonten Sangpo set up a rule for the former nuns. He expected to continue the remaining Nunnery tradition and to protect the Nunnery. During winter, most of the villagers migrate to Pokhara, Kathmandu or India. All the major robberies use to happen in winter. So to protect Nunney from such threats and snow, former nuns had to look after the Nunnery for three months during winter. They had to bring their clothes, blankets, food and firewoods from their home and, they had to stay there under Nunnery rule. During those three months, they recite prayers and learn new prayers. 
On the 14th and 15th of the first month in the Tibetan lunar calendar, they gather and pray for two days. Every year two nuns turn by turn had to offer a meal for those two days. On the 16th and 17th of the first month, the treasurer, lead chanter and master of the nunnery changes and appoints a new one. This system played a role to protect the Nunnery for a while. In 1993 former nuns handed over their full authority and responsibillity to Namgyal Monastery and, they completely terminated their responsibility towards Nunnery. From then, Nunnery tradition was wiped out. Nunnery remained a temple or, a shrine for the devotees.